How To Identify Hail Damage On A Metal Roof | Metal Roofing Supply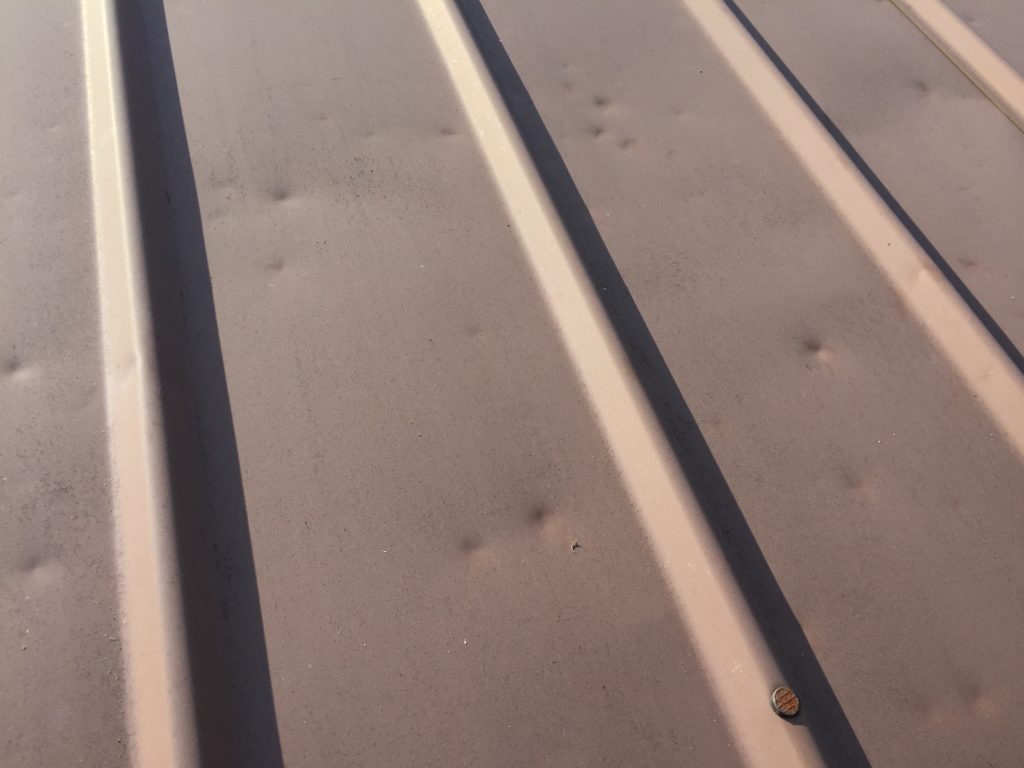 Many homeowners may think that hail and metal roofing are enemies, but that is a myth. Metal roof options are more resistant to hail than other roofing materials. Even exposed to extreme weather conditions, the issues a metal roof may encounter are minor. 
Yeah, metal roofing is not prompt to be damaged, but it doesn't mean it can't happen at all. So, if you're ever in the position of wondering how to identify hail damage on your roof, keep reading! 
Can Hail Really Damage A Roof?
First off, how does hail work? Hail is a natural compound formed when drops of water freeze together in the cold regions of thunderstorm clouds. Hail damage is not common if your roofing materials are class 4 rated.
Class 4 materials cannot show evidence of tearing, fracturing, cracking, splitting, rupture, crazing, or other evidence of opening while being tested. These standards mean that the amount of damage caused by hail depends on the quality of your roofing materials. Always ask your metal roof supplier for this rate before purchasing!
How To Identify Hail Damage 
Even when hail damage is not common, it can occur. So below, we will define how to identify hail damage in your roof before contacting a roofing company.
Denting: 
If your metal panels are dented from the hail, it's mainly a cosmetic issue that won't cause the roof to fail or create leaks. Denting doesn't practically mean homeowners will have to replace the structure. It can be a minor inconvenience compared to a punctured roof system.
Puncturing:
Depending on the damage, a roof system punctured by hail needs to be repaired as soon as possible since it can cause a roof leak or make the roof system fail.  
4 Factors That Can Affect The Level Of Damage From Hail On A Roof
Some factors can influence the level of damage from hail on a roof, so here are 4 of them to be aware of:
It depends on the storm's strength, but the size of the hail mostly affects roof systems when it falls. As stated above, roofing materials are tested to know how much they can handle. Still, there are locations where hail tends to be bigger than the standard 2".
Embossed metal is expensive and considered a specialty product. Still, the embossed metal can help conceal the potential dents that a hailstorm can inflict on a metal roof.
The slope on a roof structure is something to think about since it can deflect more of the hail and cause less damage.
Aesthetically speaking, matte-finish paint will help you hide any dimples caused by the hail. At the same time, glossy finishes will highlight the dents.   
Your Go-To
Metal Roof Suppliers
Metal Roofing Supply has provided Arkansans with the best roofing materials in the state for over 25 years. Whether you hire a contractor or you're going to do a DIY project, we will gladly assist and provide you with the most reliable metal roofing materials in Arkansas according to your needs and budget. 
If you are looking for the best metal roofing services in Arkansas, trust our experts and bring your dream project to life!